You never know what happened behind the scenes...
...of a photoshoot. LOL!
Well since it is a photoshoot, there will always be some 'failed' moments that we try to hide behind all those pictures posted.
And for my recent shoot of Sekaiichi Hatsukoi, we happened to catch a lot of these LOL moments! HAHA!
So here I go sharing them~~
(pardon the bad quality as they are taken with phone camera/processed badly by me. opps)
What happens if the seme's hand is not 'seme' enough?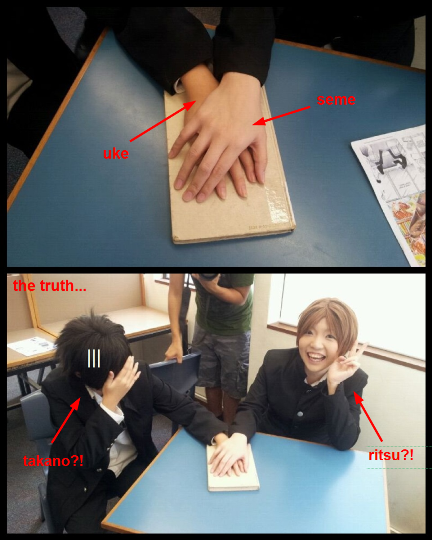 Well, you get the uke's hand to replace the seme's hand. LOL!
Yes, I have very small hands so this is one of the failed moments. hahaha!
No space to shoot? The photographer always have a way!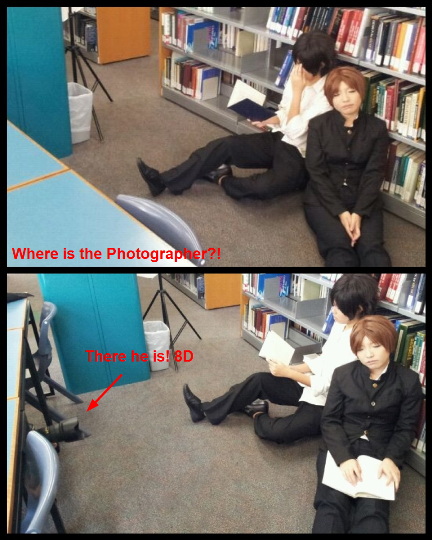 Yes, the space in the library where we were ain't that big and we couldn't shift the tables around.
So that is how the photographer took the shot. Sniper-class? LOL!
'Kira Kira' face when the seme and uke meet?
We are supposed to give a 'surprised' face for this shot.
As we try to figure out how to stay in character while being 'surprised', we gave this expression as our photographer did a 'testing' shot.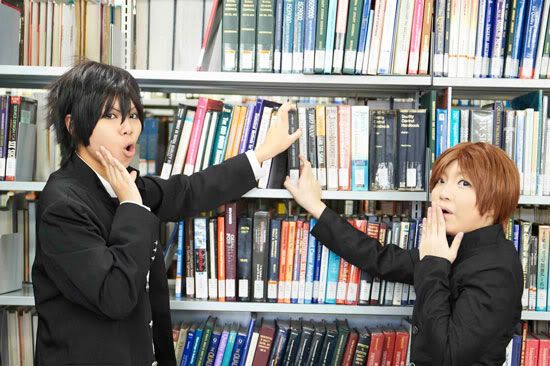 ARE WE NOT SURPRISED ENOUGH? HAHA! *pukes*
Everyone who watches Sekaiichi Hatsukoi knows Masamune is a freaking tall student for god-knows-what reason. LOL.
And unfortunately I'm a lot shorter than him (and have a very short body as well), I needed some 'help' with my height since I wasn't wearing any platform shoes during the shoot.
"shooting in a library is awesome due to the available platforms for height increment- BOOKS."
- quote from
piyo2himi
Here goes where the books are put to 'good use'. (well except being used as a reading material LOL)
Sitting down shot: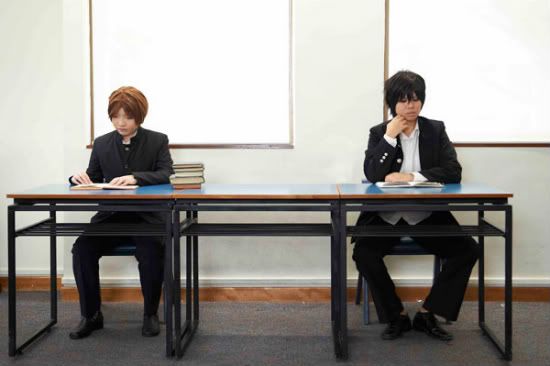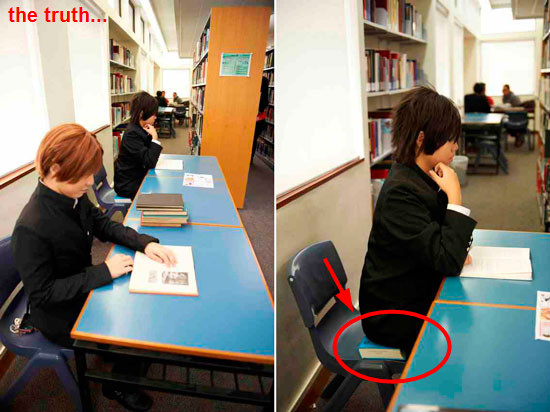 oh right, as I mentioned that my body is short, so I needed help to make it look 'longer' in the pictures by sitting on books. =x
Standing shots:
First, truth behind this lovey dovey shot. TROLOLOL.
Now you know why I suddenly looked so tall in the pic. haha!
Here comes another 'cheating' shot. HAHA!
We also have random shots taken while the photographer took for testing.
I will just share them here as I loved them too. xD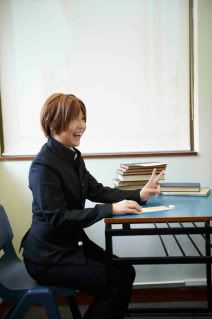 Ritsu giving a kawawii face. 8D
Both acting cool at the wrong time. LOL!
The thing Ritsu is holding is actually for the photographer to get the white balance when he process the pics. (well I think? I can't remember exactly what is it for but yeah. =x)
So we also got another shot. This time he managed to catch me with bubble-gum!
Raping Ritsu. Masamune gotta try harder since Ritsu wasn't really scared here. LOL!
And finally, thanks a lot to
biomonkz
for these Polaroids!

and of course, camwhore with my kawawii Ritsu, XiaoBai~ *v*
Nyahahaha!
Really had a lot of fun and
silent
laughter! LOL!
Do check out the following deviations from the shoot!